February 6 - February 24

Robert Berry Exhibit in Granbury

Fort Worth member & renaissance man Robert Berry is exhibiting his awe-inspiring art at the Dora Lee Langdon Cultural and Educational Center in Granbury.
Read the Hood County News article
February 3 - Kosen Rufu Gongyo

Kofu District sponsored February's Kosen Rufu Gongyo. The wonderful Fort Worth chorus displayed their musical prowess once again. Members discussed the recent Advanced exam, and a panel of women told of their experiences with all levels of SGI study exams, from Entrance to Advanced. A stimulating Q & A session followed, with many complex philosophical questions such as "What do Buddhists believe about heaven and hell?" and "What about God?" being asked. Members were also reminded about the upcoming, Chapter-level Women's Division General Meeting, to be held at Redbud Hall, in the beautiful Fort Worth Botanic Gardens. Volunteers are needed to help in many areas, so contact your favorite WD if you would like to be involved!
January 1st - New Year's Gongyo in Fort Worth!
The Fort Worth Chapter's first very own New Year's Gongyo was great. Mayor Kenneth Barr issued a proclamation, presented by city councilman Frank Moss, declaring January 2, 2002 "Soka Gakkai International Day".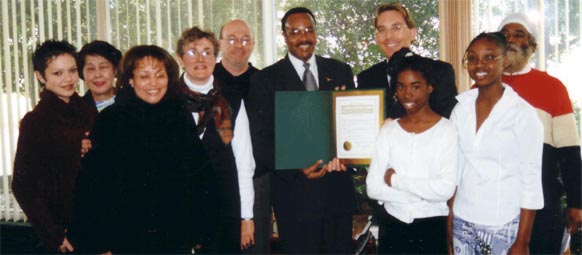 Also, in honor of President Ikeda's birthday, cake!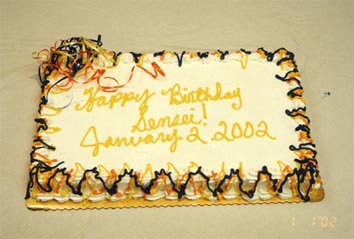 December 2 - Kosen Rufu Gongyo
Millenium District sponsored a wonderful Kosen Rufu Gongyo. Carl Williams led the assembly in Gongyo. The always-effervescent Helen Williams led a lively discussion which involved everyone by passing out questions regarding how members started practicing, whether or not the practice helped them, and how it had effected their lives. When their question was called, volunteered rose and gave their experiences. Cynthia Wilks, who has been coming to meetings for some time under the tutelage of Alice Eldridge (Sundance District), received her Gohonzon.
October 28 - Victory Over Violence Family Youth Festival

Fort Worth and Dallas members (and one member from Lubbock!) joined together to make the festival a huge success. With drama, dance, and music, the youth division put on great performances, ably helped by members of all ages both on- and off-stage.
October 20 - Cowtown Brush-Up

15 Fort Worth members participated in the 4th annual Cowtown Brush-Up, a city of Ft. Worth program that allows volunteers to come together and paint houses and clean up the neighborhood for the area's elderly, disabled, and low-income residents.